Protect your online brand with Desvio Intelligence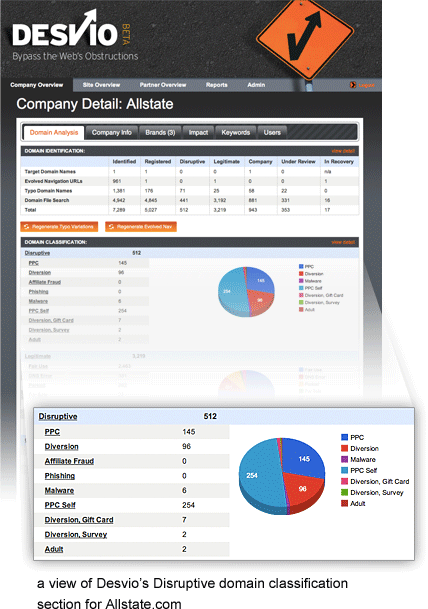 Typosquatting comes in many forms. Our Intelligence engine categorizes all offending sites into the multiple categories including:
Pay per click: Using your own PPC ads to direct traffic back to your domain
Diversion: Re-directing users away from your domain to a competing domain
Phishing: Making a domain appear exactly like yours to fraud or mislead users
Affiliate fraud: Re-directing users back to your domain after stuffing an affiliate cookie
Malware: Attempting to hijack or otherwise compromise a user's machine

Domain database continuously updated
Typosquatting activity is dynamic. Millions of typosquatted domains are registered and dropped each month, so Desvio updates its database routinely to expose all active typosquatters.
Who's behind the fraud?
We provide contact details for each typosquatted domain owner (where possible), then group them together to expose the largest offenders.